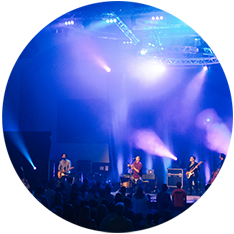 Technical Elements is a live event production company located in Atlanta, GA, that provides audio, video, lighting, staging, set design, and production management for any concert, corporate meeting, theatrical production, outdoor gathering, fundraiser or live event! Our goal is give YOUR audience MORE! We strategize by combining the vision, creative elements, venue, talent, and message to create the ultimate experience for your audience! that values above all
Learn More
Live Event Management
Being ready is the secret. Our production management services is the extra step in making sure every element of production is organized and over communicated.
Live audio, video and lighting services
Using the latest technology in speakers, microphones, consoles, moving lights, LED's, video screens, I mag, projectors and more to insure you have the best at your event.
Set Design and Construction
From concept to installation if you need a tree growing out of your seating area or a car built on your stage, point us in the right direction and we will create it.
Staging
Every event needs to be seen! If you need to be 4'' off the ground or 4' off the ground, let us build a custom size stage for any event.
Pipe and Drape
The fastest, most economical way to create a nice, finished, wall of fabric. We love the challenge of turning a room into a set. Look no further for your Pipe and Drape needs!
High Quality Support
With 98% customer retention rate, we treat you right!
"Technical Elements is a great company to work with. Their expertise helped make our graduation a success. Even with last minute changes Technical Elements came through with out hesitation to fulfill our needs. They also offer suggestions on how to make our production better, pointing out things that we may have missed, always looking out for the client. I recommend Technical Elements to everyone that I can."
WILLIAM W. MEADS,
"The success of the Bailey Performance Center is closely tied to our production elements. Technical Elements' flexibility, innovation and expertise allow us to look and sound our best. Their commitment to quality is what bring us back to them time after time."
JOHN CURTIS,
"From concept design to show time, Technical Elements provides the service, insight and creative elements to make it happen! The look and feel of our show and staging has improved drastically with the efforts of the Technical Elements team of experts. The team works to create the best show while at the same time keeping our budget in mind."
GAYLE K. SILVEY,
"Technical Elements provided us with the stage and sound requirements for our Relay For Life, a large outdoor event that attracts over 5,000 attendees. The level of service and attention to detail were excellent and exceeded our expectations. In additon, the staff at Technical Elements were very professional and delivered on every promise that they made for our event."
DAVID PROPHITT,
Our unique ability to transcend sector boundaries and conventional solutions has enabled us to win and maintain a remarkable portfolio of corporate clients. Our clients hail from all sectors of the business world, requiring us to grasp their image and goals as well as the challenges and innovations specific to their industry.